Homeless Youth
CreAtive Dignified employment
Peace Love Bling was founded  to provide creative, dignified employment for women and youth, helping them emerge from homelessness, trafficking, abuse and addiction. We are a learning workplace. 
We are most proud of our recent artisan collaboration with Star House where we employ homeless youth to craft jewelry. Through this program they learn job skills and build their resume while being paid to be creative. 
Tonight upwards of 41,000 children and young adults will sleep without safe shelter and without the support of families or guardians. 
 Since 2013, Peace Love Bling has established workforce development programs to provide creative, dignified employment primarily to women who are emerging from abuse, trafficking, poverty and homelessness. The problems with every person I met started in childhood. After I hear each individual story, I just want to go back in time, hug that little girl or boy and give them an alternative path. Recently, I learned that youth homelessness is growing exponentially especially in our own hometown.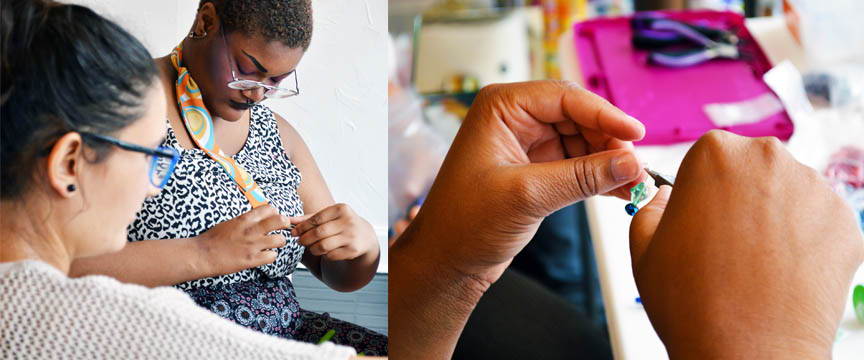 I thought I could envision their future. Many, if not most, of these homeless youth will become the battered, trafficked victims who will eventually turn to drugs and alcohol to help cope with their situation. And for every adult who is actually able to fight hard enough to overcome a lifetime of issues, the growing population of homeless youth indicates that there are more than one more that will be …. 
     So, we've partnered with Star Works, an emerging workforce development effort within Star House to provide paid training and employment to homeless youth. Our program is really new, but it's amazing! Our Bling team currently makes some of our best selling designs. 
     As we grow, we will help our participants set life and career goals, build their resume and give them the skills and confidence to accept full time, living wage careers. How do we grow our program? We sell more jewelry! 
     When you have time, please visit a few of these links for more information. I'm so passionate about this that I am also happy to talk your ears off if you want to call or text me personally. 
     Learn more about other programs we support with time and financial resources ROX, Dress for Success, Godman Guild, ODVN, OAESV, Catch Court